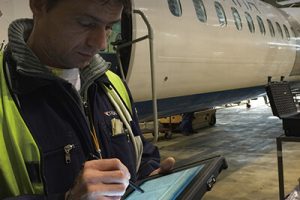 "The tablet offers better mobility for the technicians performing maintenance and repair. Getac tablets have enabled us to complete tasks accurately and efficiently. In addition to being a revolutionary computer solution, the devices offer an eco-friendly paperless option"- Msc Hrvoje Tkalcic, ICT infrastructure manager of Croatia Airlines.
[downloadpdf url='https://www.getac.com/wp-content/uploads/2019/02/croatia_airline_en_v01_061716.pdf' text='Download pdf']
Challenge
Appropriate maintenance of aircraft and aircraft parts is critical for safe and successful airline operation. The hangar is a huge area where maintenance and repair services are undertaken. A reliable and secure service requires utilization of stable and trustworthy electronic devices, which speed up the routine jobs and ensure they are done successfully irrespective of the prevailing weather conditions.
Aircraft maintenance involves checks, maintenance and repairs all of which need to meet with standard operation procedures. This included carrying around huge amount of paperwork, while doing the maintenance work. In the absence of an appropriate device, the technicians need to make several trips up and down the aircraft to check on the faults, access materials, and documents on the repair process. With Getac, they can know the issues reported beforehand and hence make a single trip to get the faults fixed.
Further, the reports of the completed work have to be printed after the technicians returned to the office. The entire process thus consumed plenty of time making the job complicated and susceptible to inaccuracies.
Solution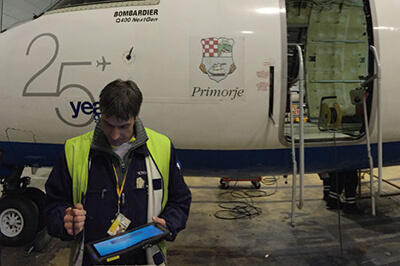 Getac certified partners M SAN GRUPA have brought the rugged solution to Croatia Airlines Technical Services. Getac was chosen after meticulous evaluation of its performance including comparison, analysis and field-testing. The top-notch state of the art features in the device include innovative display provided by a 10.6" touchscreen. The proprietary LumiBond® 2.0 technology ensures excellent screen visibility even under harsh sunlight and a wider viewing angle.
The F110 vehicle dock in the front seat enables technician to be updated on the issues upfront, so he can attend to the issue immediately.
The device with its IP 65 and MIL-STD 810G certification facilitates high-level resistance to vibration, water, dust, and the variable temperatures found in the airport environment. In-vehicle docking and in built 3G communications enable technicians to know about issues immediately and attend to them. Serial port feature allows flexible data transfer from device to server ensuring top-notch efficiency in the maintenance services.
Benefit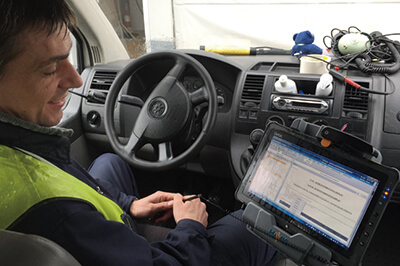 With Getac F110 fully rugged devices, overall efficiency, accuracy, and punctuality have improved both on the ground and in the air. Reliable and instant access to real time information resulted in services being performed in a shorter span. Technicians were able to streamline maintenance operations with fewer discrepancies and greater precision. As a result, maintenance and repair services have become highly optimized increasing productivity and efficiency.
Msc Hrvoje Tkalcic, ICT infrastructure manager of Croatia Airlines states, "This light weight thin solution has made our maintenance service more productive and efficient".