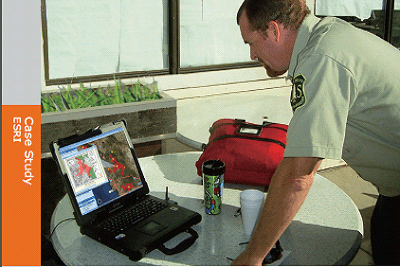 Getac rugged PCs & ESRI software help map California wildfires. Based in Redlands, California, ESRI designs and develops the world's leading geographic information system (GIS) technology.
"If it can be broken, a firefighter can break it…. The M230 is one of the few [rugged PCs] out there that can claim to be 'firefighterproof,'"
~Tom Patterson, ESRI Wildland Fire Specialist.
Download PDF
[downloadpdf url='/wp-content/uploads/2019/01/esri-software.pdf' text='Download pdf']
Challenge
When you're battling a dangerous, wind-driven wildfire and people's lives are at stake, you want access to the toughest, most innovative tools and technology available. That's precisely what local, state and federal emergency response crews got throughout the summer and fall of 2007 when Southern California was ravaged by a series of wildfires that blackened hundreds of thousands of acres across more than half a dozen counties.
Fire and emergency officials knew they needed to deploy crews, equipment, and water and fire retardant to key strategic locations as quickly as possible and constantly monitor the fires' status. To develop a plan of attack against the firestorm, emergency responders called on wildfire strategists armed with Getac Rugged notebook PCs and geographical information system (GIS) software from ESRI, the world's leading developer of GIS applications.
Using military-grade Getac M230 Rugged laptop PCs with daylight viewable screens and built-in GPS and wireless radio trans-mission capabilities, ESRI wildfire specialists operating behind the fire lines with local, state and federal emergency responders. They employed the company's ArcGIS software to integrate, manage and analyze large amounts of real-time geographic and other fire and terrain conditions and instantly generate and share detailed maps, charts and other information.
Solution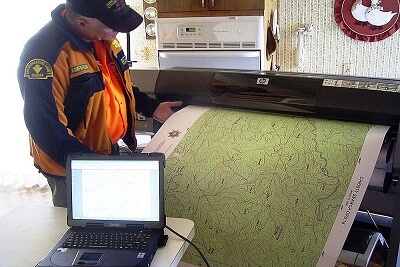 ESRI Wildland Fire Specialist Tom Patterson remembers when mapping out a strategy for fighting a wildfire meant unfolding a topographic map on the hood of a truck, covering it with a sheet of Mylar and penciling in fire boundaries and other information. "You'd have one guy saying 'The fire's over on this ridge' and another guy saying, 'You're wrong, it's over here,'" recalls Patterson, who spent 30 years in emergency management before joining ESRI two years ago.
These days, Patterson opens his Getac Rugged M230 notebook PC with sunlight viewable screen and uses ESRI's ArcGIS software to help fire commanders generate two- and three-dimensional maps of fire perimeters and progression, analyze vegetation and other physical features, allocate resources and equipment, and perform property and community damage assessments. The maps and other information are then distributed via the M230's wireless radio connection to other command locations and centralized emergency response centers. "It's so much faster and you make smarter decisions," says the retired National Park Service and former deputy chief of the U.S. Bureau of Land Management's California Desert District.
"For the first time in our county's history, we were able to deploy maps that allowed all of the agencies involved to see the problem from the same point of view," says Santa Barbara County Geographic Information Officer Zacarias Hunt, who spent more than two months tracking the huge Zaca fire, which burned almost 250,000 acres.
As the fire moved from wilderness toward populated areas, Hunt and two other technicians used the ESRI-powered Getac notebooks to generate detailed plans that mapped out evacuation routes, Red Cross shelters, historic sites, schools and other infrastructure that might have to be defended – even the location of people with disabilities who might need help during an evacuation. Officials knew that if the fire destroyed major power lines, evacuating nearby Santa Barbara and surrounding communities would be more difficult.
"Using the maps, we were able to determine decision points where evacuation warnings and then full evacuation plans would be put into action," says Hunt. "We were even prepared to go out [to the community] with a series of eleven-by-seventeen maps to make it happen."Until the ESRI-powered Getac units arrived "we had been struggling with computer muscle," says Hunt. "The Getac laptops were high-end as far as processing, memory and speed needed to accommodate intense GIS data sets. Anything less than that wouldn't have been feasible."