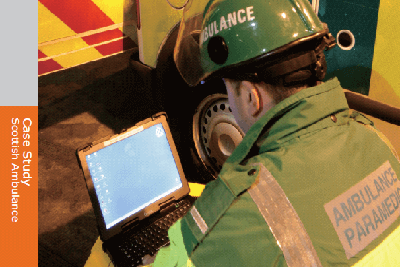 The Scottish Ambulance Service uses its SORT with Rapid Response Vehicles in many parts of the country to ensure the fastest possible response to 999 calls. The vehicles deliver early intervention for scene assessment and emergency treatment, before transporting patients to hospital via an A&E (accident and emergency) ambulance.
Brian Hunter, Resilience Manager commented, "It's the medical skills of the paramedic that save lives, not the vehicle he or she arrives in. It's the speed in which paramedic gets to the patient, and the treatment given on arrival, that influences survivability; not so much the time it takes to get to hospital."
The Scottish ambulance service deals with more than half a million emergency calls each year, many to life-threatening emergencies.
To ensure the Tactical Response Units are able to deal with emergency patients quickly and efficiently, ultimately saving lives, it is essential that they can instantly gather information about a scene they are visiting, and this is where rugged notebook technology comes to the rescue.
[downloadpdf url='/wp-content/uploads/2019/01/scottish-ambulance.pdf' text='Download pdf']
Challenge
When attending incident sites, a SORT quite often requires information such as site plans to allow them to efficiently access casualties. Or they may have need of direct contact with sources of expert advice such as the poisons bureau or the HPS (Health Protection Scotland). Getting this highly relevant information to the responders on site is a major benefit. The quickest and best way to retrieve the information they require for this task is with notebook technology
Funded directly by the Health Department of the Scottish Government, the National Risk and Resilience Department of Scottish Ambulance demonstrated the benefits of introducing rugged notebook technology into a typical working day and also why commercial notebooks weren't up the task.
Solutions

The department chose the Getac M230s to enable them to deliver information instantly. Using notebooks eliminates the need for many telephone calls and a lot of written documents, which makes it a lot easier and quicker to gather the information needed to deal with an emergency.
The M230s include communications technology, such as WiFi and Bluetooth, which enables constant contact with key departments that may need to be called upon at a moment's notice, and are equipped with large, high resolution screens which allow information to be displayed as clearly as possible.
"Rugged technology allows our responders to work in all sorts of environments and in some harsh weather conditions," said Hunter.
Benefits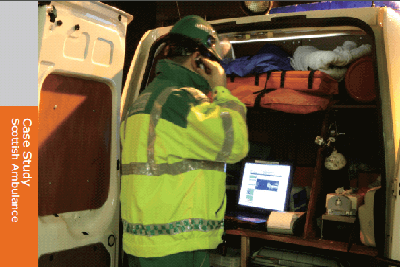 Getac is a leading, specialist, rugged mobile computer manufacturer with extensive technological and manufacturing experience. Its M230, a member of the Getac M-series of rugged notebooks, is perfectly designed for outdoor rescue.
Capable of withstanding all types of harsh weather conditions, the M230 mirrors the reliability of the SORT, continuing to work in conditions such as heavy thunder storms and snow storms (down to -20º C).
"The sunlight readable technology the M230s offered and the extra long battery life were key in the procurement decision making," said Hunter. "These features in particular help keep our responders working when in the past they would have been unable to work as efficiently."
You can't predict where the next incident may happen or what the conditions will be, and so it is essential to be prepared. Along with being housed in a magnesium alloy casing, the M230s are MIL-STD 810F and 1P54 compliant, meaning they are capable of withstanding heavy rain and spillages, and are immune to airborne dust and debris, thus allowing first responder crews to continue working, even in hostile environments.
"Total cost of ownership of such equipment is important for us, especially when best value is essential. Rugged technology ensures that we have equipment that offers an extra long life span no matter what we throw at it," said Hunter. "But even more important when choosing equipment that ultimately helps save lives, it is essential that the equipment will not fail during an emergency."
The M230 also includes advanced HDD protection such as: anti-vibration rubber and anti-shock housings which protect the notebook's data when drops occur. Built to sustain tremendous shock and vibration, the M230 is ideal for use during high speed emergency runs, inevitable during many SORT recovery missions, allowing the first responders access to valuable data and information when a commercial notebook would most likely fail.