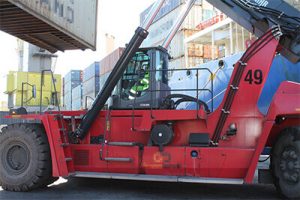 "Today's shipping companies require an efficient and highly organised port logistics platform, and thanks to innovative suppliers such as Getac, we have been able to provide increasingly efficient services for our customers. Being an innovative company in providing services for the port sector and ensuring high-quality standards at all times based on skills and professionalism is one of our main objectives. Thanks to our technology partner, Sanval of Genoa, which has continually supported us in this process of innovation, we have identified the fully rugged Tablets F110 and T800 by Getac as the most appropriate products to support our technologies. Our operators, both in the reach stacker cabin and the ground
handling staff, can manage all loading or unloading stages independently while keeping to the schedules and adhering to the correct operating methods, without fear of work interruptions due to adverse weather conditions, and actually improving the efficiency of their day-to-day tasks".
Ivo Bonomi, ICT Manager of the Spinelli Group
[downloadpdf url="/wp-content/uploads/2019/11/Spinelli_Case-Study_WW_191104-1.pdf" text="Download pdf"]
Challenge
The Genoa based Spinelli Group is the leading Italian provider of port and intermodal transport logistics solutions; it needed to find a rugged and reliable solution to manage the information flow digitising process between the port terminal and Head Office. The loading and unloading of ships and container transport are fast-paced operations taking place outdoors, under difficult conditions, in all kinds of weather, and at any time of the year. Both reach stacker operators and ground handling staff needed lightweight, easy-to-operate, technologically advanced devices to send and receive in real time all the necessary information to manage the flow of both inbound and outbound data.
Solution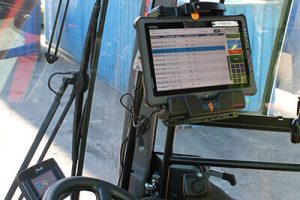 After testing numerous rugged hardware solutions, the company settled for Getac's Fully Rugged F110 and T800 Tablets, which proved to be the ideal choice in terms of reliability and efficiency in a critical environment such as a port terminal, where risk factors such as wind, rain, salt, humidity, and extreme temperatures can greatly affect daily operations. Both the 8″ screen of the T800 and the 11.6″ screen of the F110 are perfectly readable in sunlight or in the rain, can be used while wearing work gloves, operate both at high and low temperatures and ensure excellent WI-FI and 4G/LTE connectivity, which is essential for data transmission in an environment where poor reception is likely due to container stacks stored inside the port area.
Benefits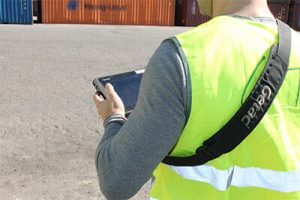 The F110 tablet installed in the reach stackers on a dock station, and the T800 provided to operators with a support belt so they can work hands-free, along with the software solution developed in-house by the Spinelli Group, have simplified and sped up data reception and transmission methods from the port area to the Group's headquarters, and vice versa. In the past, these activities were performed entirely manually with paper and pen, with the risk of incorrect copying. Digitising the data transmission process has allowed the Spinelli Group to significantly reduce the amount of time for each task, which is absolutely crucial to the efficiency of logistics and transport management in port areas.