Technology you can trust in emergencies

Vehicle Integrated Solutions
Our comprehensive range of rugged secure vehicle solutions seamlessly integrates front line emergency services personnel, to the command and control centre, for cohesive operational decisions and intelligence.

Trusted to Deliver
Getac has over 30 years of rugged innovation and boasts high levels of customer satisfaction levels in the industry. Our products are designed and consistently pass third party and stringent rugged testing standards for rough handling and outdoor mobility in your operational environments.

Excellent Total Cost of Ownership (TCO)
Our fully rugged products come with an industry leading warranty cover providing accidental damage and a collect and return service aimed at reducing our customers internal overheads and costs. This high level of standard service reduces the need for costly spares, provides a fast and reliable turn-around time to get your device back in up and running in the minimal time without additional through-life operational expenditures. Getac therefore delivers one of the lowest TCO in your industry.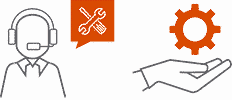 Fully Integrated Solution Partners
We work closely with our partners to deliver a highly integrated eco-system. This includes excellent hardware, mounting options, vehicle power integration, software and security solutions, ensuring seamless compatibility with dedicated industry systems. We are also a strategic Microsoft and Intel partner.

Secure Authentication
Our devices offer a robust suite of security features. To further protect your data we provide multiple authentication methods. These include fingerprint readers, smartcards, RFID readers and facial recognition solutions. We also provide our "Getac Secure" security software suite. Contact Getac for compatibility and specific information.

Industry Leading Services
Getac offers a industry-leading warranty (bumper-to-bumper) on our products for a minimum of 3-years*, which includes accidental damage. Our devices are serviced in our own services centres supported by key partners such as DHL, ensuring your products are back in your hands as soon as possible. For minor repairs, Getac's Self-Maintainer Programme lets customers opt to have replacement parts shipped directly to them.
* Semi-rugged products require service upgrade
Trusted Globally
A few of our favourite success stories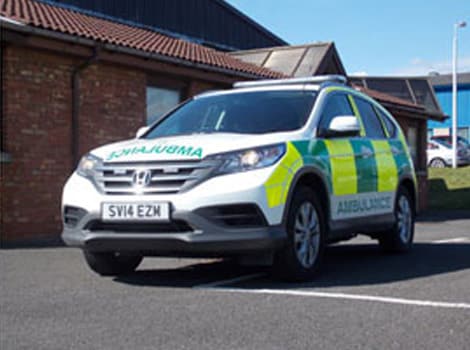 Scottish Ambulance
The Scottish ambulance service deals with more than half a million calls each year, many relating to life-threatening emergencies. Response teams need to reach patients fast and gather information as efficiently as possible to ensure the right treatment is delivered.
The department uses Getac's T800 rugged tablet throughout its fleet of ambulances. Each vehicle is equipped with two tablets – one in the cabin for mobilisation and routing, and one in the rear for completing Electronic Patient Report Forms on-scene. The T800's high-speed processing power and 8.1" LumiBond display means paramedics can quickly access and view critical patient information in all conditions. It also complements the Terrafix Aggregator (T.AGG), a vehicle-based communications management hub with integrated GPS that streams data directly to all T800 tablets across the fleet.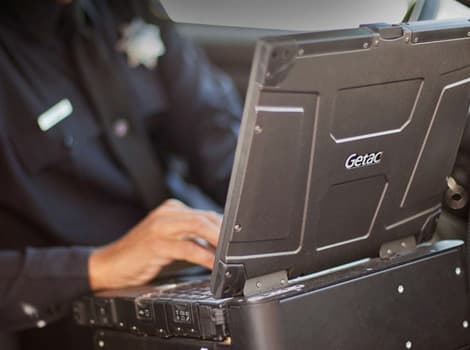 San Jose Police Department
As new policing techniques emerge, outdated technology can act as a major barrier to adoption, preventing officers from carrying out their duties effectively.
When the San Jose Police Department needed to replace its aging police platform, it chose the fully-rugged Getac B300 notebook as part of a future-proof new solution. Since implementation, equipment downtime and maintenance costs have been minimal, while officer productivity has significantly increased.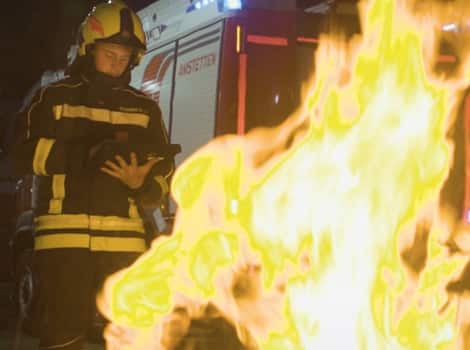 Rosenbauer
Volunteer firefighters of the Amstetten fire department regularly face extreme conditions in the line of duty and rely on real-time situational updates to ensure their safety. To achieve this, they use Rosenbauer's EMEREC mobile operation management software, powered by the Getac F110 tablet.
The combination of software from the leading supplier of fire-fighting equipment in the world and powerful, fully-rugged hardware from Getac lets fire crews respond to any emergency quickly and confidently. Furthermore, they can perform their duties safely, knowing they're receiving accurate information at all times from their operations centre.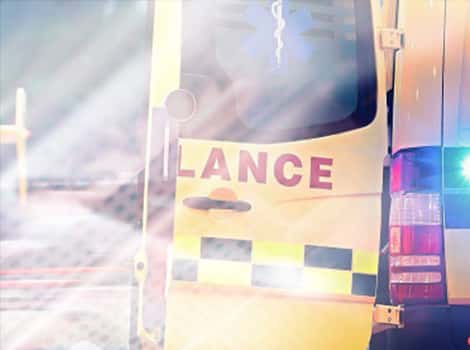 Østfold Hospital
Many ambulances in Norway only have one tablet-based PC, which is installed in the driver's cabin. In the back of the ambulance where patients are treated, records are often still managed with pen and paper, which can be time consuming and inaccurate.
Until recently, this was the system Østfold Hospital was using. However, to improve patient safety and quality of care, the hospital installed Getac's RX10 rugged tablet into the back of all its ambulances, alongside a mini-keyboard, docking station and printer.
The Getac RX10 rugged tablet is IEC 60601-1 certified for use in healthcare. It can be wiped down and sanitised, while its rugged design means it can withstand drops, bumps and moisture. For ambulance crews, the benefits are huge. Not only does it significantly improve patient safety by providing real-time access to patient records, it also cuts admin time and allows team members to focus on saving lives instead of manually filling in forms.