Company Overview
Since 1989, Getac (TWSE: 3005) has been providing rugged computing solutions for demanding professionals in extreme environments. Getac was established as a joint venture with GE Aerospace to supply defence electronic products.
2019 Revenue
$872 Million USD
US$40.0 billion in revenues (2019)
Getac is one of the key subsidiaries of the MiTAC-Synnex Group, the third-largest computing group in Taiwan, with US$40.0 billion in revenues (2019). Our products have passed stringent international rugged testing standards for rough handling and outdoor mobility.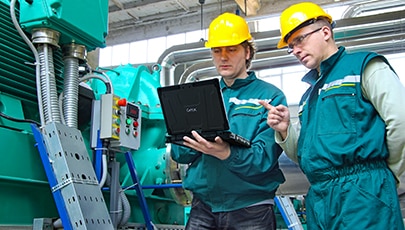 Leading rugged computer providers
As one of the leading rugged computer providers, Getac offers extensive rugged computing product lines including laptops, tablets computers. Getac serves a wide range of vertical markets including military & defence, law enforcement, public safety, emergency services, utility, natural resources, oil and gas, telecommunications, transportation and industrial manufacturing.
Technological Breakthroughs
Getac has made several technological breakthroughs that improve the performance and safety of using computers in dangerous environments including:
QuadraClear® sunlight readable display screens.
Night vision without goggles.
Advanced power saving technology.
Industry's first resistive multi-touch display for use with gloves.
Industry leading 5-year warranty on our fully rugged computers.
In January 2010, we shook up the industry by including a 5-year bumper-to-bumper warranty on our fully rugged computers.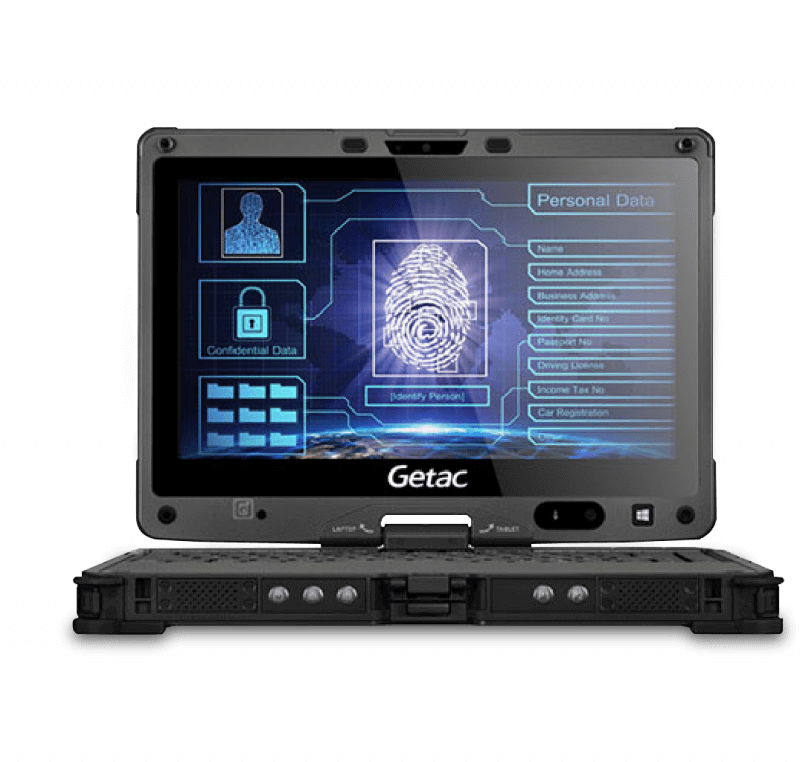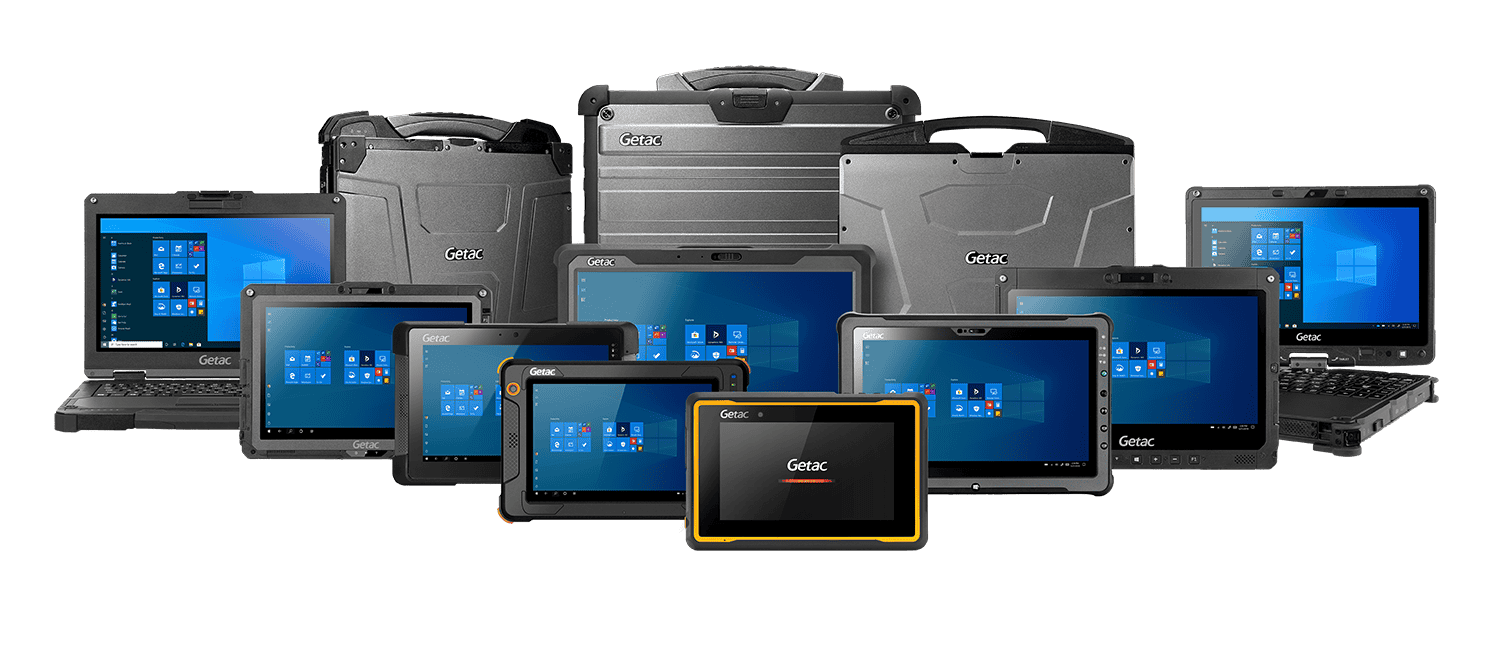 Today, we've welcomed several large customers into the Getac family:
Baidu (China) – X500
British Touring Car Championships (United Kingdom) – A140, S410
Jupem (Malaysia) – V110
VIST Group (Russia) – F110
Leica Geosystems (Switzerland) – F110, ZX70
ESMSA-Codelco (Chile) – F110
Imdex (Peru) – ZX70, V110, F110
Primagaz (France) – ZX70
CerbAir (France) – X500, S410, MX50
Severn Area Rescue Association (United Kingdom) – V110
Barcelona Firefighters (Spain) – F110
Breacon Becaon (United Kingdom) – F110, ZX70
Rosenbauer (Austria) – F110
City of Pueblo (United States) – V110
InfoChamp (Taiwan) – T800
Brabo (Belgium) – F110-EX
Lithuanian Railways (Lithuania) – F110
Spinelli (Italy) – F110
Istanbul Airport (Turkey) – F110
Digital China (China) – UX10, F110
Remica (Spain) – T800
Netzgesellschaft Berlin Brandenburg (Germany) – T800
Vaillant (Germany) – V110
Wasserwerke (Germany) – ZX70
Coffey Alley (Ireland) – ZX70
Company History
Getac was established in 1989 as a joint venture with GE Aerospace to supply defense electronic products. Apart from the rugged computing business, Getac is also involved with the design and manufacture of plastic and lightweight metal components. The acquisition of Waffer Technology in 2009 has made Getac the world's third largest aluminum-magnesium alloy producer.
Getac is one of the key subsidiaries of MiTAC-Synnex Business Group, the third largest computing group in Taiwan with $40.0 billion dollars consolidated revenue in 2019 (USD).
1985

MiTAC forms Defence Electronics Division.

1989

GE Aerospace and MiTAC established Getac brand in Taiwan as a 50/50 joint venture.

1991

T-series debut as the first rugged portable luggage computer with four full size expansion slots.

1992

N-series launches as first rugged military notebook computer with military connectors and GPS.

1993

Introduced I-series rugged notebook for heavy industrial application.

1994

L-series launches as Getac's first light weight rugged portable notebook.

1995

Began manufacturing first A-series rugged notebook featuring magnesium-alloy chassis.
Certified as an ISO 9001 company.
Getac, Inc. established in California for North American sales and service.

1996

CA-series rugged tablet PC launches.

1997

Certified as an ISO 14001 company.

2001

Compact W-series rugged notebook launches with 10" LCD display and weighted five pounds.

2002

Began manufacturing law enforcement rugged computer for key internationally recognized brand.
IPO on Taiwan Stock Exchange, under ticker number 3005.

2003

Certified as an OHSAS 18001 company.

2004

Launch M220, Getac first 14"/15" large screen size rugged notebook.

2006

Instituted green product production initiative at all manufacturing plants.

2007

P470 launches as Getac's first semi-rugged notebook.
Merged MiTAC Precision Technology into MiTAC Technology Corporation to expand component module business.

2008

B300 launches with the word's first 1200 NITs sunlight readable display in a rugged notebook computer.
E100 launches as industry's lightest 8.4 inch fully rugged tablet weighing just 1.4kg.
PS535E fully rugged GPS PDA are launched.
B300 rugged notebook obtains salt fog certification. [MIL-STD-810F part 509.4]

2009

2nd Generation PS535F fully rugged GPS PDA is launched with altimeter and E-compass.
Announced agreement with HP in US to supply and service rugged computers through HP's 3rd Party Solution group.
Established Getac UK to expand rugged sales in England and Scandinavian countries.
Acquired the stake of Waffer Technology Corp., the world's third largest Mg-Al mechanical parts manufacturer.

2010

Added V200 12.1" convertible to fully rugged lineup.

2011

Launched S400 semi-rugged notebook--one of the most durable semi-rugged available.
X500 ultra-rugged notebook launches with a large 15.6" high-definition display, expansion chassis and powerful processor.

2012

Getac X500 Fully Rugged notebook won Taiwan Excellence Awards - Gold Award.
The PS336 handheld device debuts with Getac's pioneering Flexiconn™ technology for expanded device capability.
Getac secures their hold in the smaller form factor space with the launch of the Z710 Android-based tablet.

2013

Getac launches one of the most technologically advanced fully rugged tablet with android 4.1
Getac introduces X500 Fully Rugged Mobile Server.
Getac announces significant upgrades to one of its flagship products – the B300 fully rugged notebook.
Thinnest and lightest ever made - Getac V110 fully rugged convertible and F110 fully rugged tablet launch

2014

Getac T800 8.1" fully rugged tablet designed for the mobile worker

2015

Getac RX10 10.1" Fully Rugged Tablet launched.
Getac RX10H 10.1" Mobile Healthcare Assistant launched.

2017

Launched Bumper-to-Bumper, industry's leading 3 & 5 Year fully rugged warranty.
Getac launch MX50 5.7" tablet for dismounted soldiers.
Getac launch ZX70 7" fully rugged Android tablet.
Getac launch A140 14" fully rugged Windows tablet.

2018

Getac launch EX80 fully rugged 8" tablet with ATEX Zone 0 certification.
Getac launches Global Partner Portal with new tools for partners.
Getac launches K120 fully rugged 12.5" tablet.

2019

Getac Select® Solutions launches.
Getac launches UX10 for Utilities, Manufacturing and Emergency Services.

2020

Getac launches UX10-EX for Oil and Gas and Natural Resources
Getac launches B360 and B360 Pro for Defence, Public Safety Utilites, Manufacuturing.